(FTC disclosure:
This post may contain affiliate links so, if you purchase a product using the link I may receive a small commission. I only participate in affiliate programs that feature products that I use and love. Your purchase price is not affected in any way, by using my links)
I'm thrilled to be joining a fun group of crafty bloggers for Craft Lightning, an event held several times a year that promotes family friendly craft projects that can be done in 15 minutes or less. From July 17-21, you can find daily projects that are quick and easy.
The theme for this event is "Scout Crafts" and I've got a quick project for you today that won't leave you hungry on your next camping trip; an Emergency Camping Snack Kit.
Grab these ingredients:
-lightweight paper or Press n Seal plastic wrap
-snacks such as beef jerky, gummy worms, Raisinets, and sunflower seeds
1. Cut a 12" x 5" strip of designer paper.
2. Run adhesive around all edges of the backside of your paper, and leave four 3" squares.
Make sure your adhesive goes all the way to the edges, so that you have at least
1/2"-3/4" adhered coverage on all sides and between snack sections.

3. Place your snacks in the middle of each section.
4. Cut a 12" x 6" piece of lightweight paper or Press n Seal plastic
wrap and lay on top of your snacks. Starting with the middle section,
press your top layer down and rub into your adhesive.
Do this for each section and all edges.
5. Trim any excess paper/plastic from edges.
6. Cut a small slit on the lower edges of each "pouch", on the adhesive line.
This allows for easy tearing later.
7. Trim a few pieces of decorative paper or card stock and label each snack.
Be creative and name them something fun, if you like.
"Bark" for beef jerky, "worms" for gummy worms, "Bugs" for Raisinets
and "Bird Seed for sunflower seeds.
Add adhesive and stick onto the front of your snack section.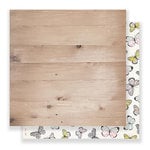 Crate Paper - Maggie Holmes Collection - Bloom - 12 x 12 Double Sided Paper - Flutter - $0.87
from:
Scrapbook.com
Toss into your backpack and go!
Stop by any of my social media links and say hi....
#craftlightning #scout #camping #boyscouts #girlscouts #snacks #snackkit #survivalkit #15minutecrafts #30minutecrafts #familyfriendly #familycrafts #wavingmywand #terriburson