(FTC disclosure:
This post may contain affiliate links so, if you purchase a product using the link I may receive a small commission. I only participate in affiliate programs that feature products that I use and love. Your purchase price is not affected in any way, by using my links)
Have you been thinking about diving into Bible journaling? I've been leaning in that direction and I think it's a beautiful art form, but I still haven't decided on which one to use. I also thought about starting a devotion art journal, going so far as to scope out different journals here and there, locally. I finally decided to use what I have on hand. My
planner
. I have a lot of great pages that are currently not being used; pages other than the 31 squares on a 2 page spread. So why not just do some devotion journaling in my planner?
I use the
Adornit Coloring Planner
which is a 3 ring binder and perfect for adding extra pages, if I need to. I'm also discovering some really good benefits to devotion journaling in my planner. Number one, I love to color and guess what? There are pages to color. Number two, I have a lot going on in my life, between church, work, my son's school activities and Band..... I need to be organized. And number three? It's good to keep your spiritual life in check, if you are of that mind set, which I am. It seems like the obvious choice, for me now, is devotion journaling in my planner. I'm using the
Adornit Art Play
image "
Be Brave
" designed by Lindsay Ostrom,
Adornit Documented Faith planner stamps
and
Adornit Documented Faith stickers
on my project. Goodness, you can even get coordinating
washi tape
!
I have always had trouble remembering scripture. As I get older, it does NOT get any better! However, I've noticed with the devotion journaling, I'm remembering scripture better, making better connections and it's great to have these references in my planner that I can look back on. You know, one day, when I'm long gone from this world, I hope my son will find these pages and have a better understanding of me. I hope it fills him with joy and that he'll share these pages with his own children. This devotion today focuses on Matthew 6:26 and is all about leaving your worries behind.
I tend to be the big worry wart in our family. Constantly thinking of things down the road, like college for the kid, retirement, a leaky roof! What I know, and what I need to constantly be reminded of is this; I will never have control over these things. In fact, God is in control and my job is to let him take care of all of it. Pray more, worry less!
Although I'm using an
Adornit coloring planner
, you can use the same products that I'm using today in your own planner. Just customize them to your own needs on your planner pages, as I've done on mine. Or, grab yourself one of the fabulous
Adornit Coloring Planners
; there are four to choose from. I'm using the Be Happy Planner. The differences in the four planners are this - a different cover and different dashboards inside to color for each month. All of the actual loose leaf papers inside are the same for all four planners. They are also not dated, allowing you to customize and start using your planner the day you receive it.
Here are some affiliate shopping links if you'd like to look around, or you can order direct from
adornit.com
.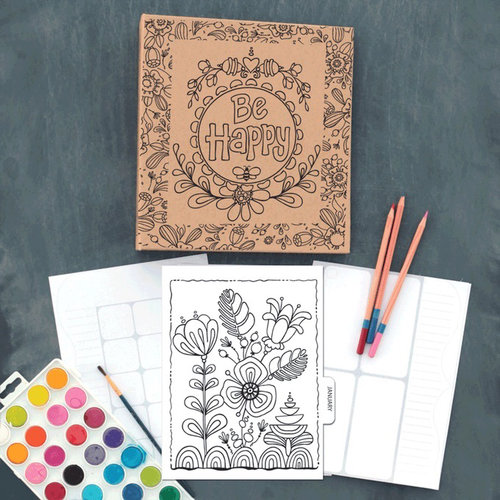 Carolee's Creations - Adornit - Documented Faith Collection - Art Play Planner - Be Happy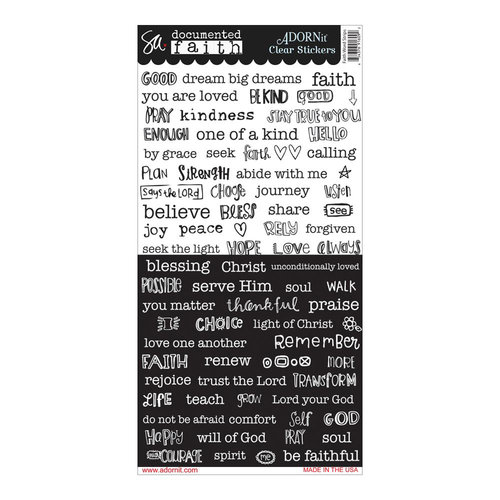 Carolee's Creations - Adornit - Documented Faith Collection - Clear Stickers - Faith Word Strips - $2.12
from: Scrapbook.com





Carolee's Creations - Adornit - Documented Faith Collection - Clear Acrylic Stamps - Dated - $10.19
from:
Scrapbook.com

Additional supplies used:
American Crafts Glitter adhesive ribbon
Maggie Holmes Crate Paper Bloom papers
Xyron adhesive
Tombow Dual Brush Markers
Tim Holtz Water Brush
Also linking to these challenges:
Simon Says Stamp Wednesday Challenge Shimmer
Craft your Passion #318 Anything Goes
#adornit #scrapbookcom #artplay #planner #coloring #coloringforadults #coloringbookforadults #coloringplanner #plannerstamps #plannerstickers #devotion #matthew6 #scripture #biblejournaling #documentedfaith #faithjournal #tombow #maggieholmes #cratepaper #bloom #xyron #timholtz #americancrafts #scrapbooking #crafting #cardmaking #papercrafts #diy #journal #wavingmywand #cre8time #washi #washitape #ribbon #bobunny #chevron #prima #paperclips #butterfly