(FTC disclosure:
This post may contain affiliate links so, if you purchase a product using the link I may receive a small commission. I only participate in affiliate programs that feature products that I use and love. Your purchase price is not affected in any way, by using my links)
Recently, I shared some products that I found at
Scrapbook.com
that were perfect for creating layouts and making cards for Harry Potter fans. Today, I'm sharing a couple layouts that I created using some of these products.
For the first time, I've veered from the traditional 12x12 scrapbook layout and am trying the 8.5x11. Let me say, I love it! It feels more intimate, with less ground to cover than a larger page. I plan on sticking with this format for awhile.
The first page features this stamp from Scrapbook Customs, called Wizard Words. This stamp set will make some adorable cards as well. Notice on my first page, I've cut the word "Harry Potter" with my
Cricut Explore
and used those fun papers that I previously told you about. Scroll down for more information on the papers. I've also added some memorabilia, such as the
Universal Studios
ticket that my child brought home.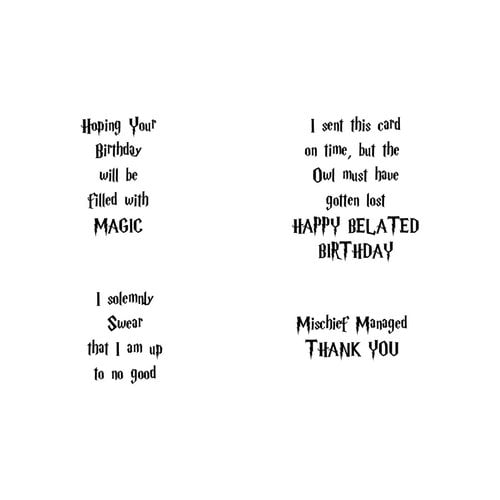 Scrapbook Customs - Rubber Stamp - Wizard Words
from: Scrapbook.com




These are the most perfect papers from Reminisce. This kit also includes papers for Minion lovers, The Mummy and Jurassic Park, another fun feature at Universal Studios. That was my son's favorite ride of the entire park.

Reminisce - Worlds of Adventure Collection - Page Kit
I wasn't able to tag along on the Band trip but luckily, my son brought home a few souvenirs, including a gift sack with the name Ollivander's, which I cut and adhered to my page, along with a trading card from a Chocolate Frog box that features Salazar Slytherin.
I also used these fun cardstock stickers on my 2nd page, which includes a photo of my son and his 2 friends after the Blue Man Show. They make fine wizards too, don't you think?

Reminisce - Worlds of Adventure Collection - 12 x 12 Cardstock Stickers - Poster
Happy shopping! I hope you enjoyed my layouts today and enjoy shopping these affiliate links. I love sharing my favorite finds with my crafty friends!

Terri from Waving My Wand
Follow me!
#wand #wizard #wavingmywand #universalstudios #harrypotter #harrypotterworld #minion #minions #scrapbook #scrapbooking #cardmaking #card #stickers #jurassicpark #jurassicworld #Jurassic #dinosaurs #mummy #hogswart #dragon #hogsmeade #train #
Gryffindor #hufflepuff #slytherin #ravenclaw #reminisce #stamp #cre8time