(FTC disclosure:
This post may contain affiliate links so, if you purchase a product using the link I may receive a small commission. I only participate in affiliate programs that feature products that I use and love. Your purchase price is not affected in any way, by using my links)
I know there are a lot of
pl
anner
girls out there, so, today I'm sharing one of the ways that I like to expand the use of my planner; devotionals or
scripture journaling
. I have an
Adornit coloring planner
and I like to use those "extra" pages" for weekly devotions. It's nice to flip through now and then and be reminded of things that I need to work on. Loving those who are hard to love is one of those things that I need to work on. Can I get an Amen?!
I love incorporating the Adornit
Art Play Paintables
into my devotions. It's a total no-brainer, for me. For this project, I colored up the floral bouquet from the Sweet Blossoms collection, designed by owner/artist at Adornit, Carolee McMullins.
You can find many of the Adornit products at
Scrapbook.com
but some of the newest products can only be found at
Adornit
, such as the Sweet Blossoms collection and the new patriotic and summer
Art Play Paintables:
I also used the Adornit
blender paper
in this fun gray striped design, not only as a backdrop on my page, but also as a little edging to the right of my scripture. In addition, I've used some of the Adornit planner
stamps

,

stickers
and even trimmed some elements from the Adornit "
Family Path
" scrapbook paper collection, the "blessings" sentiment and the yellow chevron arrows. Adornit even has a fun selection of washi tape or decorative tape. You can find that,
here
.
Here's a close-up of my coloring which was done with my
Faber Castell
watercolor pencils. Did you know Adornit has now come out with a line of their own watercolor pencils that will be available soon in stores? I can't wait to get my hands on them!
This photo just doesn't capture all the sparkle and glitter from my
Kaisercraft
glitter pens. All my writing was done with my black glitter pen and all those tiny dots you see, as well. I use these fun glitter and gel pens on almost all my coloring projects for added sparkle.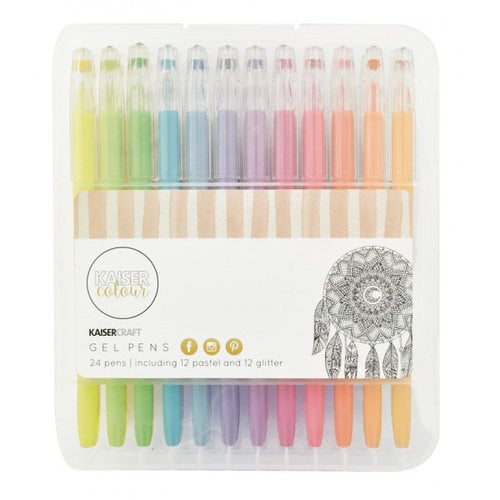 Kaisercraft - Kaisercolour Gel Pens - 24 Pack
from: Scrapbook.com
Thanks for stopping by today and I hope you enjoy adding new life to your planner!
Find me on these social media links:
#adornit #artplay #planner #stickers #plannerstamps #plannerstickers #washi #washitape #kaisercraft #glitter #gel #fabercastell #watercolor #pencils #sweetblossoms #paintables #ribbon #scripture #biblejournaling #plannerlover #artjournal #devotion #devotional #journal #journaling #wavingmywand #terriburson #craft #scrapbook #scrapbookcom #card #diy #bible #verse #quote #loveoneanother #romans #cre8time #documentedfaith #documentedlife