When I saw this collection from
Paper House Productions
, I knew I had to have it. Growing up in upstate New York, our family and extended family spent many summers camping. I have such wonderful memories of my childhood, camping at Fair Haven located on the southern shores of Lake Ontario. Most evenings were spent roasting marshmallows by the campfire, sleeping in tents while the grandparents slept in a camper just like this one, then waking up to the smell and sound of bacon sizzling in a cast iron skillet.
(FTC Disclosure: as an affiliate for various companies in the craft industry, I will receive a small commission for purchases made through my
convenient affiliate links.
This does not affect your purchase price.)
There are so many fun, double sided pattern papers in this collection, perfect for scrapbooking your favorite memories, but also wonderful for papercrafting and sending cards to those you love who share those special moments with you.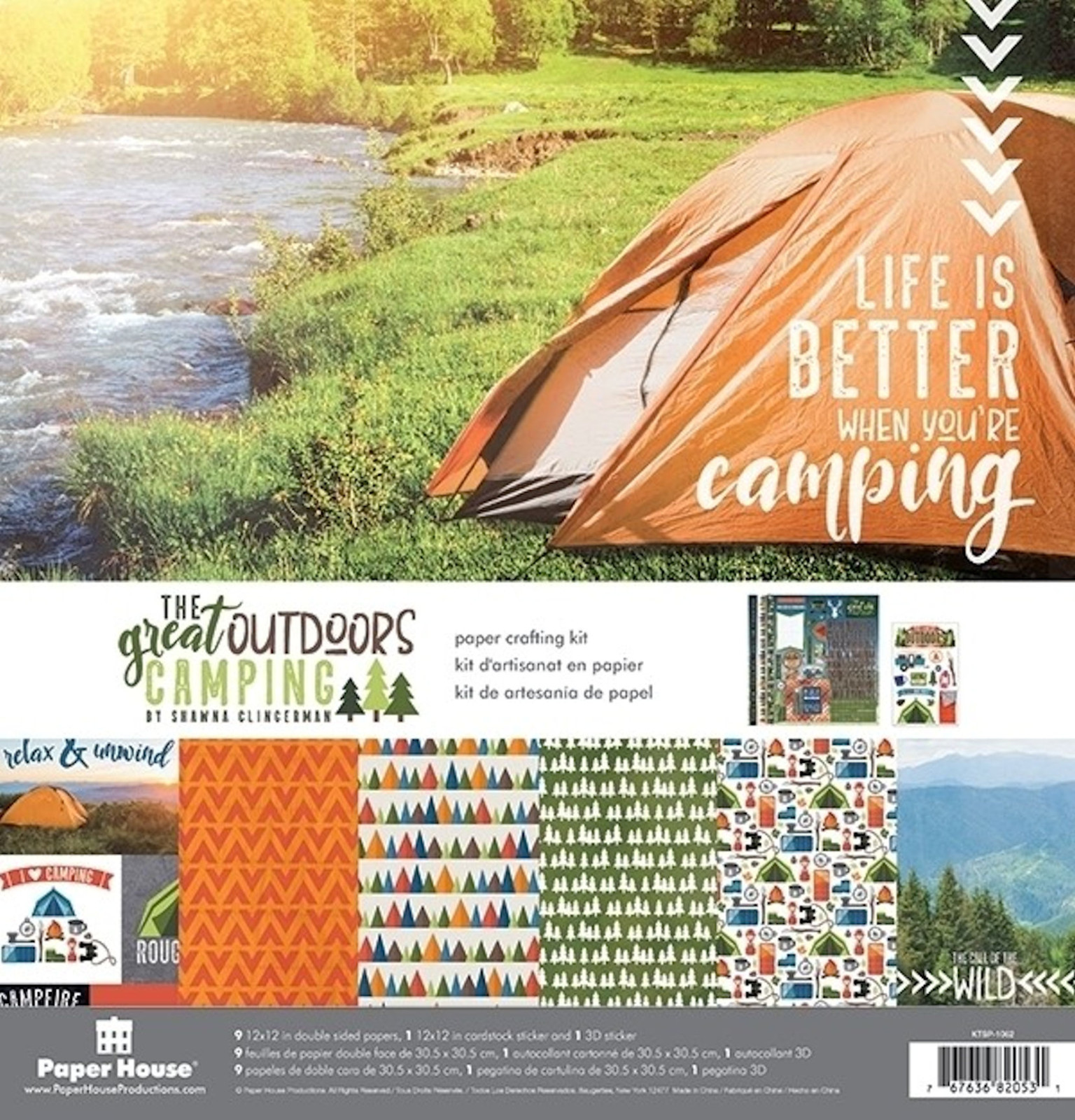 This set comes with a sheet of 12x12 inch stickers but also comes with a sheet that includes 3D stickers as well, such as the camper in my photo.
I embellished my scene a little bit if you look closely. I hand cut a mountain shape from a sheet of scrap paper that I had in my stash from another PHP collection, then used my Scrapbook Adhesives by 3L EZ Grand Runner with Repositionable tape and swiped the tops of my mountains, applied white embossing powder and heated with my craft heat tool. I also colored some 3L adhesive dots with glitter and heated those as well, for my sky scene. Acrylic paint was dropped on my sky as well to jazz up my night sky paper included in this collection.
I created a border just below my camping scene that includes this leafy washi tape from the PHP
Birch and leaf washi tape
collection, along with woodgrain paper included in the kit.
I'm happy to say, and as some of my crafty friends will testify, shipping is super reasonable and super quick. I'm always so happy when I refer friends to this wonderful company to shop and they report back and tell me how quick their order arrived. Always a key factor when I chose where to spend my money and I know most of you would say the same thing.
I have a couple more projects coming out soon featuring the various collections from The Great Outdoors. I hope you will take a few minutes and browse the shop over at
Paper House Productions
. If you haven't heard, they just released newly licensed planner products featuring Harry Potter. You can check that out
here
. Thanks for stopping in today!
#paperhouseproductions #wavingmywand #thegreatoutdoors #camping #cards #camper #cardmaking #scrapbook #papercrafts #DIY #stickers #harrypotter #terriburson #scrapbookadhesivesby3L #ezgrandrunner #adhesivedots #paint #glitter