I'm featuring another project today, for
Paper House Productions
, and using the
Lake Life
collection for the first time. Wow, I
love
this collection and the versatility of these papers. Sure, they're made for scrapbooking. However, as an avid cardmaker, I know I can open the kit, site unseen and there will be so many wonderful papers that I can use for cardmaking.
(FTC Disclosure: as an affiliate for various companies in the craft industry, I will receive a small commission for purchases made through my
convenient affiliate links.
This does not affect your purchase price.)
This
kit
also comes with a 12x12 inch sheet of cardstock stickers as well as a pack of 3D stickers, both of which are used on my project.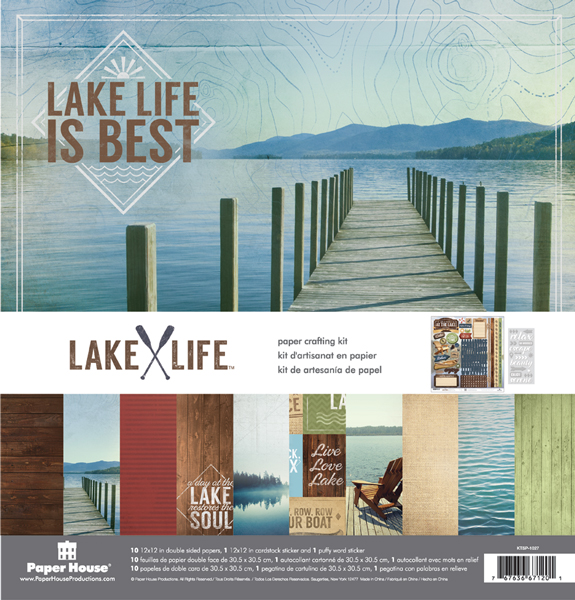 Are you following me on social media? I recently shared on
Instagram
, a sneak peek of making that boardwalk/dock by paper piecing trimmed strips of woodgrain papers onto the burlap paper, both included in this kit. Make sure you're following me, so you get those special details that I sometimes share outside my blog post.
I added a vellum overlay on top of the water scene and I also created a "throw blanket" for my chair. It's really easy to do. I simply trimmed some gingham ribbon and fringed my edges. This is cut into 2 pieces. One appears to hang off my chair and has one end tucked behind my chair. The other piece is tucked behind the backside of the chair, then folded over the arm and, if you zoom in, is folded again so that it appears to be draped over the arm of the chair. I used snips of extreme tape from Scrapbook Adhesives by 3L to achieve the double fold, and my EZ Grand Runner for the rest. Most of my sticker elements are popped up on foam circles for added dimension.
I usually have a cup of coffee in my hand wherever I go. That would include, chair side at the lake! So, I included one of the faux enamel stickers from the
Girl Power
planner stickers collection. Even though they're planner themed, these are by no means itty bitty. They are a nice size for decorative elements on all your paper crafting.
That wraps it up for today's card. Thanks for stopping in and I'll see you next time! Feel free to shop any of the convenient affiliate links scattered throughout this post. Have a great day....Terri
#paperhouseproductions #lakelife #cards #cardmaking #wavingmywand #girlpower #fauxenamelstickers #scrapbookadhesivesby3L #extremetape #EZgrandrunner #woodgrain #ribbon #fabric #paperpiecing #vellum #overlay #dock #pier #boardwalk #diy #papercrafts #terriburson #coffee #coffeecup